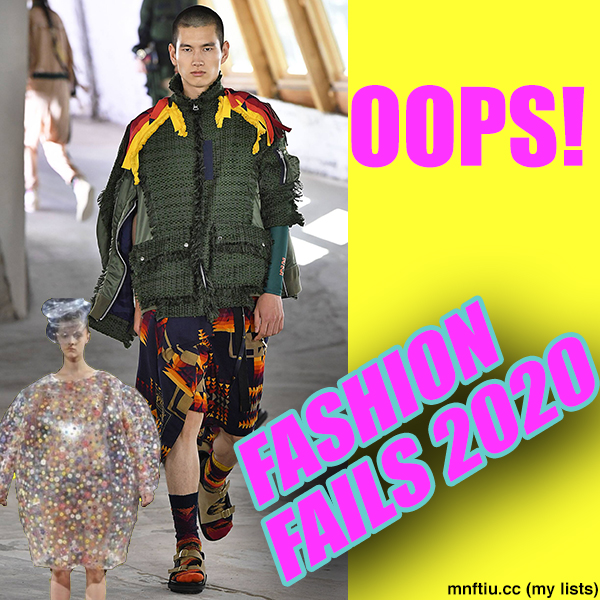 Oh, fashion. What a year you had! From the runways of Paris to the glossy magazines of New York and Milan, in 2020 we lived, ate, and breathed many things … and one of them was fashion. Fashion (the art of wearing clothes that improve one's appearance according to the latest trends) has always been about looking stylish and living with high style. In 2020, as the world saw multiple unusual circumstances come into play, fashion continued to play a role in our lives. They say that fashion is never more important than when it seems least necessary, and 2020 certainly put that to the test. I'm happy to say that our student (fashion) passed that test with flying colors! (And what better way to pass a test for fashion, than with flying colors, for colors — and fabrics — play a central role in how we perceive fashion, because colors are quite mesmerizing when presented as part of a cutting-edge ensemble that fills us with lust for fashion.)
So, that's the good news. Now here's the bad news:
Unfortunately, as with so many things this year, when it came to fashion, there were lows as well as highs. Not every shot in fashion can hit the bull's eye, but sometimes a fashion mistake is just as exciting as a fashion triumph! Although we had fewer red carpet events this year, the rich and powerful/glamorous still had occasion to take fashion risks (chances). Sometimes those risks were successes, but other times — and here's where things get interesting (and fun) — they truly achieved a "fashion fail."
Who said that just because 2020 was an extraordinary year, we couldn't celebrate some hilarious fashion fails?
Here are the TOP TEN FASHION FAILS OF 2020:
10. Runway mishaps
9. Remember that one time that lady wore a goose
8. Floppy skirts that looked silly
7. When a majorly trendy shirt doesn't button correctly … and … has spaghetti sauce on it
6. (TIE) Weird bags / Shoes where you can see someone's toes sticking out like their foot is leaking
5. When Givenchy and Prada both released the exact same hat with little basketballs and strange words printed on it
4. Wedding gowns that didn't seem quite normal
3. "I wouldn't let my own horse dress like that!"
2. When a horse looks better than you
1. Horse = 100, You = 0