We go into the room … we take our seats … the lights go dark … the big light comes on the screen … we see things on the screen … we laugh, we cry, we gasp, we scream, we sigh … the lights come up … we leave and go home …
Q: Where were we just then?
A: We were at the movies!
Movies have the ability to transport us to anywhere the movie director can imagine. In 2013, that meant we could go to space; to a ship that got attacked by pirates; to a land of hobbits and talking monsters; and even to the land of dirty comedies — America when did we lose our way at the movies? No matter. In the end, it's all just "the magic of the movies."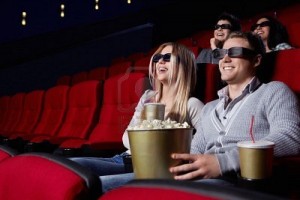 So buy your ticket, take your seat, wait while the lights do down, and get ready for a once-in-a-lifetime IMAX experience of a list that sneaks up and floors you!
Here are THE BEST MOVIES OF 2013:

10. Crummy movies nobody wanted to see
9. Decent movies that some people wanted to see
8. Romantic comedies
7. Thrillers
6. (TIE) Franchise reboots / Experimental movies (no words in English)
5. 3-D movies
4. Documentaries
3. Wonderful arts and entertainment of movies but it could be better
2. "You won't believe what I saw at the movies"
1. The Academy Awards
——-
Someday I want someone to make a movie about my lists. It would be called, "The Lists That Moved A Nation: A True Story Based On My Lists," and it would star fifty of the hottest actors and actresses with an exclusive soundtrack by the best singers of all time. Hollywood, when did you lose your way? You want to make a hit movie, right? So call me … or are you all a bunch of dingdongs?