If you've been feeling despondent and sickly since April of last year, it's probably because that was the last time I posted an installment of FRIDAY FACE-OFFS.
Friend, are you ready to feel healthy and whole again? I hope so … because Friday Face-Offs is back with a VENGEANCE!
Friday Face-Offs
Friday Face-Offs is the only internet tradition that has the vitamins and minerals you need to thrive, jive, and just plain survive in this modern era we live in called "Computer Times."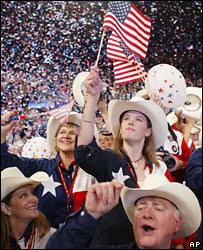 I put a lot of thought into which songs to pick for FFO, and this week's edition is no different. I don't know if you've been paying attention, but America has caught a case of ELECTION FEVER, with candidates talking on TV and driving around the country looking for votes and money and whatnot. It's a grand tradition, this democracy thing, and America does it better than anyone else — probably because we are the world's oldest democracy, dating from 1439 A.D., the year of the first election in the American colonies! ("Pilgrim Joe" vs. "Fur-trapper Bartholemew.")
Anyway, I was thinking about the election and how it's sort of like a big nation-wide party — after all, there's yelling, and funny costumes, and kissing (babies), and fighting, and lies, and cheering, and every so often somebody goes nuts and takes off their clothes before throwing up and collapsing in a pool of their own sick (Newt Gingrich, usually). Basically, ELECTION 2012 is gonna be our PARTY in the country of THE USA, and that's why …
… this week's Friday Face-Off is "Party In The USA" by SUNN O))) Miley Cyrus!!!
You can watch the original video here:
What can I say? I used to hate this song*, but now I love it. Dr. Luke is an amazing pop producer — he always manages to "make me move my hips, like, yeah."
Okay, so let's get to it! FIRST VIDEO IS UP NEXT! It's Friday Face-Offs!!!
(*Surely, referring to a thankless cab driver as "the taxi man" is one of the most condescending things a teen-pop idol can do, right? Not to mention, getting excited about a Jay-Z song after landing at LAX is blasphemous; she should've picked a west coast MC like Boots Riley [LOL])