I recently filled my biggest single pencil-sharpening order to date: 25 pencils for a class of third and fourth graders preparing to take the New York state exams.
I decided to use my El Casco M-430 sharpener for the job, as it produces an extremely long point and flat tip ideal for consistent, long-term filling-in of standardized test bubbles.

Here are the pencils with plastic sheaths attached to prevent breakage in transit.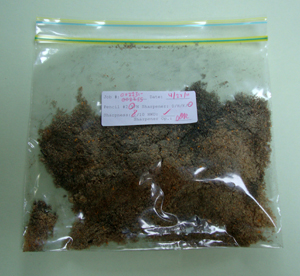 Here are the bagged shavings. As some of my customers know, the El Casco really pulverizes the wood. This looks more like a bag of cremated mice than a bag of pencil shavings. I would not try crossing an international border with this bag.
After the job, I decided a thorough cleaning of the El Casco was in order.


Fortunately, the sharpener comes with a helpful parts manual. (Remember, El Cascos are hand-assembled in Spain.)

Some of the equipment needed for cleaning — a more detailed account will be included in my book HOW TO SHARPEN PENCILS, available Spring 2012.
The grinding mechanism is cleaned and ready for more action.


TOMORROW: Some of the nice thank-you notes I received from the kids!
SUMMER MADNESS SALE: Artisanally sharpened pencils now available for $15 at www.artisanalpencilsharpening.com!