LOL, are you kidding me? THE ECONOMIST likes the new GYWO book?
Enjoy this long, comprehensive review from The Economist's supplemental magazine. Here's a sample:
Between fusillades, Rees reveals some surprising characteristics for an angry cartoonist. One is prescience; in early 2002, he was riffing about war in Iraq, although it would not begin for another year. In spring 2006 he began to rib John McCain for shedding his maverick suit for an ill-fitting orthodox Republican one. And he has long criticised the way America's relentless campaign in Iraq has pulled resources and attention away from Afghanistan, well before Barack Obama made this concern mainstream. . . .



But perhaps Rees's most striking quality is his persistence in spotlighting the unending bloodshed. The years have ushered a parade of Washington obsessions — the Iraq Study Group, the Plame Affair, the Democratic takeover of Congress, warrantless wiretapping, etc — yet Rees has been rare in his dedication to reminding readers that real people continue to die violently, and at an alarming rate.
(My emphasis.)
Let's face it, gang:
1. I AM THE BEST.
2. EVERYBODY NEEDS TO BUY FIFTY COPIES OF MY BOOK.
3. THE END.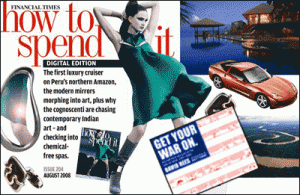 LOL, next up I want a glowing review from the Financial Times' supplemental magazine, "How To Spend It." (It's for rich people). LOL, LOL, please review my book alongside some fancy wristwatches! I propose a photo spread of me on a yacht in a white suit wearing a thick-ass diamond watch pouring champagne all over my book while Damien Hirst is looking at me like, "Why can't I be a seething genius like him?" LOL! Let's do this!