MUST ATTRIBUTE . . . PARENTAL WARNING . . . ADULT CONTENT . . . SIRENS FLASHING . . .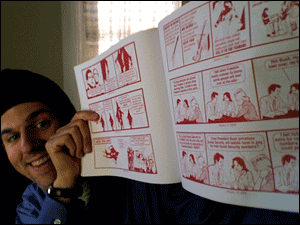 Look at all the comics! What were they thinking?
Here's an EXCLUSIVE poem about the book:
Everybody buy fifty copies of this book
Not forty; not thirty
Twenty copies won't do, nor ten
It must be fifty
Fifty copies ONLY
Fifty
Must be bought
Your only option
Won't you support poetry by buying fifty copies of this book today?