As a wise man once said: "2020 … a year to remember." As this year draws to a close, we must all agree it was one for the history books. We saw wonderful triumphs as well as unfortunate tragedies, and sometimes it felt like a struggle just to keep up. Let's not mince words: In many ways 2020 was a challenging year. 
Now that the year is drawing to a close, some people wrestled with the question: How could anyone summarize this extraordinary year? Could it be done? How could someone make sense of the last twelve months — the highs and lows, the historical moments, the catastrophes and celebrations that marked 2020 as a year not soon to be forgotten?
Fortunately, no matter how chaotic our times may be, when it comes to looking back on the year, we have the concept of "lists" to help us make sense of what has happened. There are many year-end lists online — the trend has only grown in recent years — but there is only one person who can make the very best year-end lists, and that person is me. And I have yet to see a year that will not bow down and be humbled by my lists. It's true: even 2020, one of the worst recent years, must ultimately succumb to the power of my lists, the most powerful force on earth, and say "Thank you for summarizing me with these lists, master, for in the end I am but another year of time."
So let us celebrate the best of 2020 with an annual tradition unlike any other, the one tradition that must surely stand the test of time: It's a wonderful tradition, and it's the tradition known simply as "My Lists."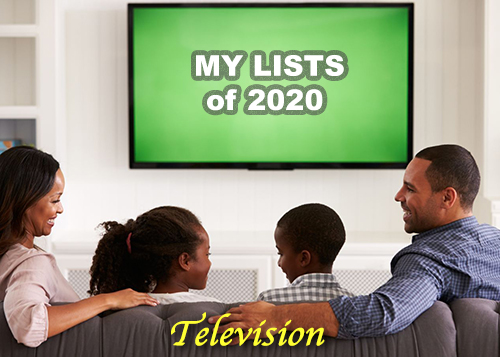 Our first cause for celebration via my lists is TELEVISION. And surely there's never been a better reason! For, as Americans found themselves spending more time at home in 2020, they turned to television to comfort and entertain them. And television — thank goodness — was more than happy to step up. From psychological dramas to premium cable comedies, 2020 will be remembered for many things, but one of them will be that it was the year America had a passionate love affair with the best of TV and TV truly became part of the family.
Here are the TOP TEN TELEVISION SHOWS OF 2020:
10. Shows that make you barf
9. Pretty good television shows
8. Well-crafted television shows
7. Television shows of a high caliber with multiple factors of enjoyment
6. Shows with extremely strong characters and writing
5. More than one television show can be seen
4. Streaming quality
3. Television shows that are almost as fun as real life
2. Fast-paced television shows
1. Exquisite stuff! This is television at its finest!
More of my lists will soon follow this initial list.