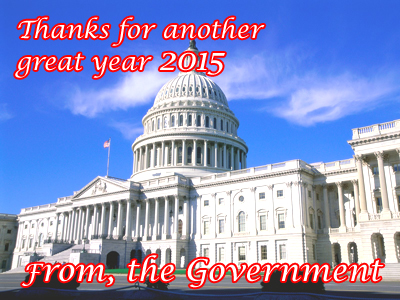 2015 will always be remembered as the year American politics graduated to the big leagues. From record campaign spending to real-time scandals playing out at lightning speed, suddenly it seemed like the stakes had never been higher … and we couldn't get enough. Our love of government was rewarded as never before.
Well-informed voters have always been the bedrock of American democracy, and thanks to cable news and online blogs, voters enjoyed more information in 2015 than in all other years combined. In fact, the 24-hour news cycle and the taste for controversy made some "news junkies" even smarter and savvier than Thomas Jefferson could have imagined when he led the architects of this grand American experiment known as our country.
No matter if you're Republican, Democrat, or Communist, as we look back over the year in politics, let's remember one simple fact: Whoever is elected the next president of the United States will by definition be the most qualified chief executive of all time, because We the People will have spoken.
Here are the TOP TEN POLITICAL STORIES OF 2015:
10. Interesting political stories
9. Compelling political stories
8. Riveting political stories
7. People-based political stories
6. The economy political stories
5. All-American political stories
4. Speeches and announcements
3. Political stories that made us smile
2. The best candidates and ideas
1. "Who will win the election?"