As I predicted years ago, technology continues to influence our lives in many ways. We are living in the modern age, and the proof is in the technology that surrounds us and makes us human: From phones to computers to the most sophisticated instruments, whether you're looking inside your body or beyond the stars, you can't do anything without technology.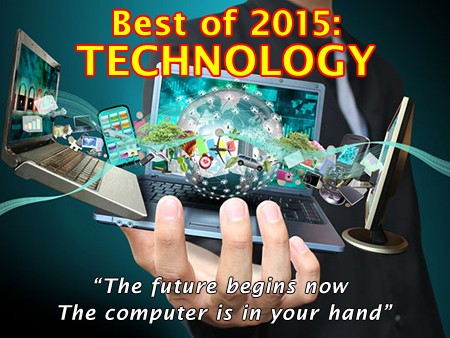 Technology keeps pace with the fastest changes in our nonstop world, and that's what makes it great. And when Silicon Valley heat meets New York City cool — when the bad boys work with the smart guys — it's explosive. That's when technology really shines and we get all. The. Feels. And. All. The. Greatest. Technology. And  when it comes to technology, 2015 was no different. We're talking about technology. So let's have some fun.
It's time to celebrate the triumphs of human ingenuity. It's time to showcase the brilliance of our finest minds. It's time to list the BEST TECHNOLOGY OF 2015:
10. User-friendly technology
9. Saying "tech" instead of "technology"
8. (TIE) Reading the coolest magazine and web sites about technology / Technology that uses batteries
7. Rolling your eyes at new technology, to suggest you are too cool to care about technology
6. Using technology to improve the quality of your life
5. Buying technology with your hard-earned money
4. Sharing technology with family and friends
3. Finding that new piece of tech that makes you smile
2. Writing and researching new technology
1. Going ALL IN on the hottest technology!!! THIS IS NOT A GAME!!!