Hello everyone out there in "Reading-my-blog-sville," I'm happy to see you this morning.
I have two fun shows coming up:
The first is a benefit for Stephen Baldwin*. It's on Wednesday, June 2 in Brooklyn, NY. You can read all about it here. Performers include some of the funniest stars currently shining in the comedy sky– including Eugene Mirman, Kristen Schaal, Jon Glaser, and loads of other folks.
The second show is this: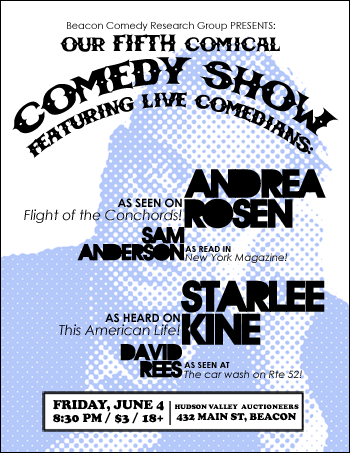 Get out of town, can you believe we pulled this off? Andrea Rosen and Starlee Kine on the same bill in Beacon, NY? "Fuhgeddaboutit." Andrea Rosen you know from Stella and Flight of the Conchords and every funny commercial on the teevee, and Starlee Kine you know from This American Life, the famous radio programme. This show will be amazing. Time to charter that bus and drive to Beacon! Or you can take the train (we have a train station in town).