How do we stop North Korea's missile program? WITH MISSILES.
Let's petition Obama to make 50% more missiles every day. Then we'll have enough missiles to pressure North Korea to stop messin' around with missiles.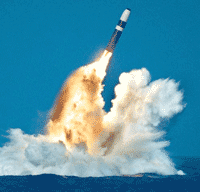 As long as this conflict is "Missile Vs. Missile," we'll be OK … for now. But what if North Korea secretly builds 10,000 missiles, each one more powerful and deadly and able-to-stay-in-the-sky than the last? Then we'll lose the missile-fight.
Do we really want to lose an all-out "missile scrapple" with North Korea, a.k.a. The Missile Masters?
NO.
So let's start building some missiles! Or else …
KNOCK-KNOCK.
Who's there?
A NORTH KOREAN MISSILE THAT JUST FLEW OVER HERE, TO YOUR HOUSE.
Oh dear, why didn't I sign that online petition at mnftiu.cc about building more missiles?
I DON'T KNOW. AND NOW YOU DIE IN MY MISSILE EXPLOSION.
=========================
PLEASE SIGN THE MNFTIU.CC MISSILE PETITION:
Dear President Obama,
You're great and everything, but you need to start building more [EXPLETIVE] missiles or else North Korea is gonna beat us in the missile race and I don't know about you, but I don't want to have to learn North Korean just to be able to order a pizza from Domino's Pizza (from when they conquer us due to more missiles).
Sincerely,
[YOUR NAME]
[YOUR ADDRESS]
Send this petition to your friends!