(Read this in a knock-knock joke voice)
"Beep, beep!"
"Who's there?"
"Technology."
"Technology who?"
"Technology that changed your life in 2014!"
As we move closer and closer to the future, technology keeps leading the way. Radical shifts in the nature and purpose of technology have led to countless changes in the way we live our lives — and the lives we live. This is due to the power of new technology, and 2014 was a showcase of that power, and that's why the Technology Hall of Fame has called 2014 "one of the best years ever for technology," because of the reasons outlined above, including (but not limited to) technology.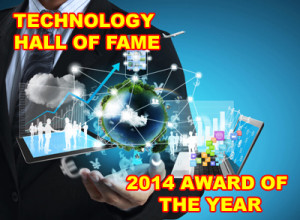 In 2014, if you weren't tech-savvy, you weren't in the game. Think about it: What turns your bread into toast? TECHNOLOGY. How do cars drive around with no people in them? TECHNOLOGY. How does the government keep us safe from terror? TECHNOLOGY. How are you reading these words? TECHNOLOGY. And that's why technology ruled in 2014.
No doubt the new year (2015) will surprise us with even more advanced technology, but let's take a moment to celebrate the technology that dazzled us in 2014, the most recent year for technology.
Here are the TOP TEN TECHNOLOGIES OF 2014:
10. Medical technology
9. Business technology
8. Hand-held technology
7. E-technology
6. Customized technology
5. Networked technology
4. "Look at all the technology!" (Said into voice-recognition software that automatically cross-posts to Facebook and Instagram)

3. Dazzling technology
2. Cutting-edge technology
1. The best technology of 2014