Hello, blog readers!
I'm happy to say that my new book HOW TO SHARPEN PENCILS will be published on April 10! Can you believe it? I almost can't.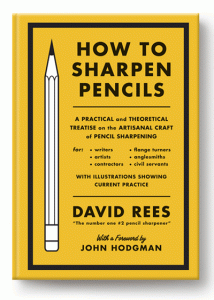 Friends, this exhaustive pencil-sharpening manual is a valuable addition to the craftsman's home library and will be the definitive guide for generations of pencil enthusiasts. It features a foreword by John Hodgman, lovely photographs by Meredith Heuer, and 18 chapters, including:
– SHARPENING A PENCIL WITH A POCKETKNIFE
– PSYCHOLOGICAL RISKS ASSOCIATED WITH PENCIL SHARPENING
– MASTERING CELEBRITY IMPRESSION PENCIL SHARPENING (CIPS)
The book is based on my experiences running ArtisanalPencilSharpening.com for the past two years, in which time I have sharpened more than 475 pencils for clients around the world! (If you're one of those clients, thank you for your business!)
Here are some computer links for pre-ordering the book from robot bookstores:
ORDER ON AMAZON!
or …
ORDER ON BARNES & NOBLE!
or …
ORDER ON POWELLS!
(Of course, it is my preference as an artisan that you buy the book from your locally sourced bookseller.)
To promote the book, I am embarking on a NATIONWIDE PENCIL-SHARPENING TOUR. More information about this tour will be forthcoming.
For now, I hope you will consider ordering the book! Need I say it makes a lovely gift?
Many thanks for your interest,
From your friend with the blog,
David Rees
http://www.mnftiu.cc
http://www.artisanalpencilsharpening.com