Hello everyone out there in MNFTIU World! I got so busy with facebook.com/mnftiu and twitter.com/letsgetshort that I neglected my home base, my "safe space," ie this blog.
But I'm going to make it up to you … by DJing the best print fair in the country tomorrow night!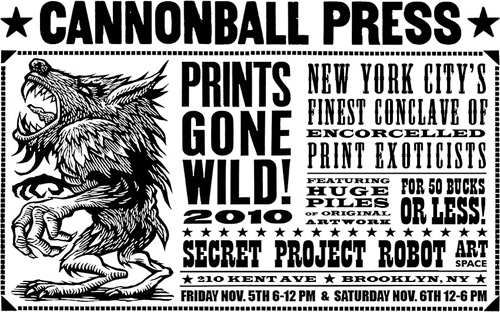 PRINTS GONE WILD
Friday, November 5
6:00pm – Midnight
SECRET PROJECT ROBOT Art Space
210 Kent Avenue (Williamsburg)
Brooklyn, NY
This event is free, guys. There will be piles of amazing prints (all priced CHEAP); there will be bands; there will be a raffle; there will be artisanal pencil sharpening; and there will be me playing my thrift-store LPs. Let's do this!