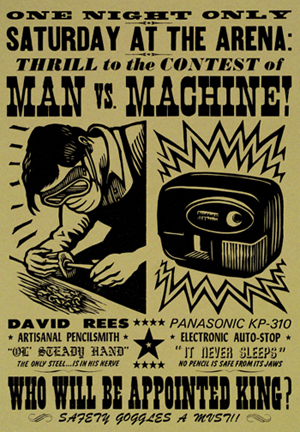 It makes me sad to see people sharpen their pencils with a machine. I believe #2 pencils need a human touch — a warmth and tenderness completely foreign to electric pencil sharpeners.
Basically, I'm the John Henry of pencil sharpeners. I'll die with a pencil in my hand.
Behold: Our latest Artisanal Pencil Sharpening print, "Man Vs. Machine!" This beauty is available in a signed, numbered edition of 50. Available NOW at http://artisanalpencilsharpening.com/. (Thanks to the amazing Mike Houston of Cannonball Press.)
Our previous pencil-sharpening print sold out in mere weeks, so act quickly to secure your copy of this one!
"Safety Goggles a Must."