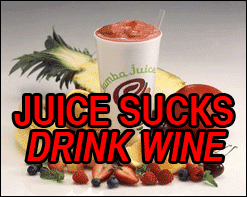 Well guys, it's almost the end of juice week. Jamba Juice has issued the following statement:
"In the spirit of promoting Jamba's message of summer bliss we specifically chose Tom Tierney-created clip art images to illustrate the state of office bliss-less-ness we were hoping to alleviate through our products. The Summer Bliss campaign has been running since May 25th using these stylized images to promote a light-hearted message of summer fun.



We understand there has been some misunderstanding about the Summer Bliss campaign artwork and the comic strip created by David Rees due to the use of these clip art images. Jamba Juice would like to expressly communicate that the Summer Bliss promotion was not intended to imply any affiliation with Mr. Rees, Mr. Rees' endorsement of Jamba Juice and its products, or Jamba Juice's endorsement of Mr. Rees' work." (My emphasis)
Guys, I'm disappointed that Jamba Juice didn't endorse my work. What if they had? What if the statement had read, "This was not intended to imply Mr. Rees' endorsement of Jamba Juice, but it WAS intended to imply Jamba Juice's endorsement of Mr. Rees' work. GEORGE W. BUSH IS A WAR CRIMINAL!!! Also, Jamba Juice would like to say, 'Everybody stop listening to Thomas Friedman!' and 'America's love affair with capitalism will end in FLAMES!' Jamba Juice stands with David Rees against the tyranny of American hegemony!!! Fuck our shareholders … their wealth is built upon a pile of bones!!!"
That would have been an exciting corporate statement.
Anyway, I would like them to post this statement on the "Cubicle Picnic" web site, but I don't think they have. What good is a free-floating corporate statement?
Also, somebody emailed me saying "Jamba" is Swahili for "fart." Can somebody confirm/deny? Because I could see myself publishing a 500-page graphic novel based around that fact.